Dear ONe platform customers,
We have great news for you! The latest update introduces a range of new features that will enrich your experience and make using the platform even easier. Get ready for an exciting journey through the new possibilities of ONe!
The backoffice administrator will have the ability to upload translations in their language directly from the merchant panel by exporting a translation file to the backoffice in the designated section.
configurations ->Language -> Exports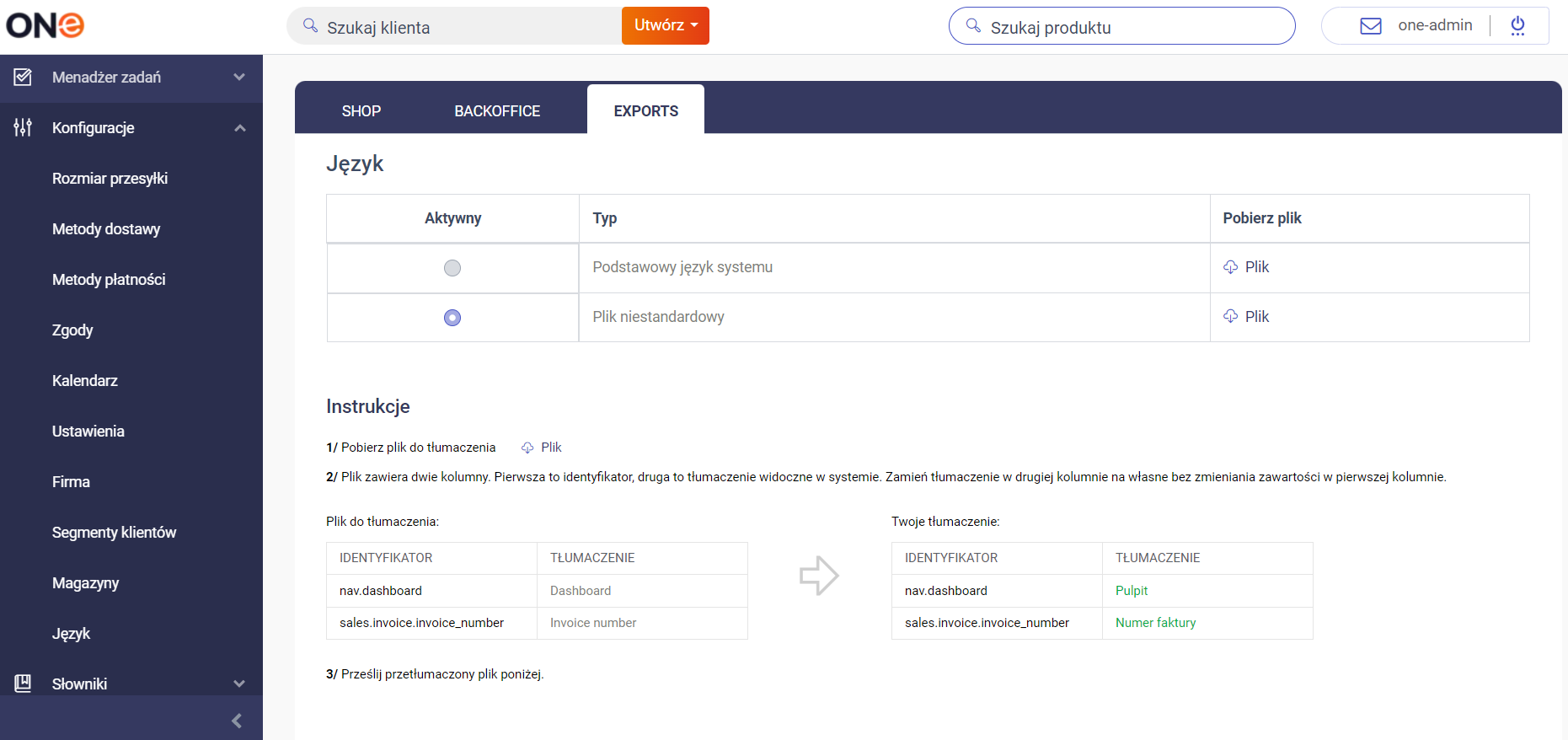 And then uploading them with the appropriate language for the client. This solution empowers each customer to independently decide how the columns in the exported files will be named. The translation file will include translations for files exported from both the merchant panel and the store.
Adding a product without a price
Activation of the above function is possible only by an employee of the ONe platform.
How to add a product without a price?
Press the "Customer" tile
Press the "Customers" tile
Select the first customer from the list "ONE COMAPANY"
Press the "Create" button at the top
Press the "New Sale" button on the list
Press the "Add products" button
Search for a product without a price
Next to the product, click "Add"
Press the "X" in the upper right corner
During the creation of an offer, we have the flexibility to add a product and offer it to the client. At a later stage, after receiving the price from the supplier/manufacturer, we can update it and send it to the client.
Permission to submit a bid to an external system
With this capability, we can create roles in the backoffice that will have the ability to send offers to an external system. Such permission can be granted to roles like sales managers, for example.
Steps for setting up a new role to submit bids to an external system:
Go to the Configurations tab
Go to Company tab
Go to the Roles tab
Create a new role
Click add entitlement
Enter the name of the role
Set the first part of the entitlement:
Area: clients

Set the action to permission:
Stocks: Customers


Set the next area:orderpath

Set the action to entitlement:
Actions: Approve offer, View order, Change warehouse, View offer, Create offer, Forward offer to external system.
click on "Create Role"