Admin panel - Back Office
Changes in the Customers tab
We have implemented a new design of the customer list and the information of particular customers in the adminstration panel. From now on, you can easily and clearly switch between the available customer information through a dedicated menu.
Available options in the customer overview menu:

General information - We will find there basic address data of the customer, information about the trade credit, invoice data, information about the segment assigned to the customer and his account manager.
Addresses - list of assigned addresses to the customer
Customer users -list of users assigned to the client
Carts -list of currently created carts on your customer's account
Wishlists -list of currently created wish lists in the customer's account
RFQ -list of offers made by the client
Orders -list of orders placed by the customer
Invoices -list of invoices assigned to the customer
NOTE: The chart in the individual tabs of the customer overview and user module currently 
has only visual character, it shows the location of the functionality in the future. 
The graph will presented data in real time adjusted to the data in customer information tabs.
The user module has also been graphically refreshed. The " Agreements" column has been added to the list of users, which presents the functionality that will be implemented in the next deploy. The column will present all the agreements accepted by an individual user on his account, so that the portal administrator will have access to additional information about his customers in a convenient way.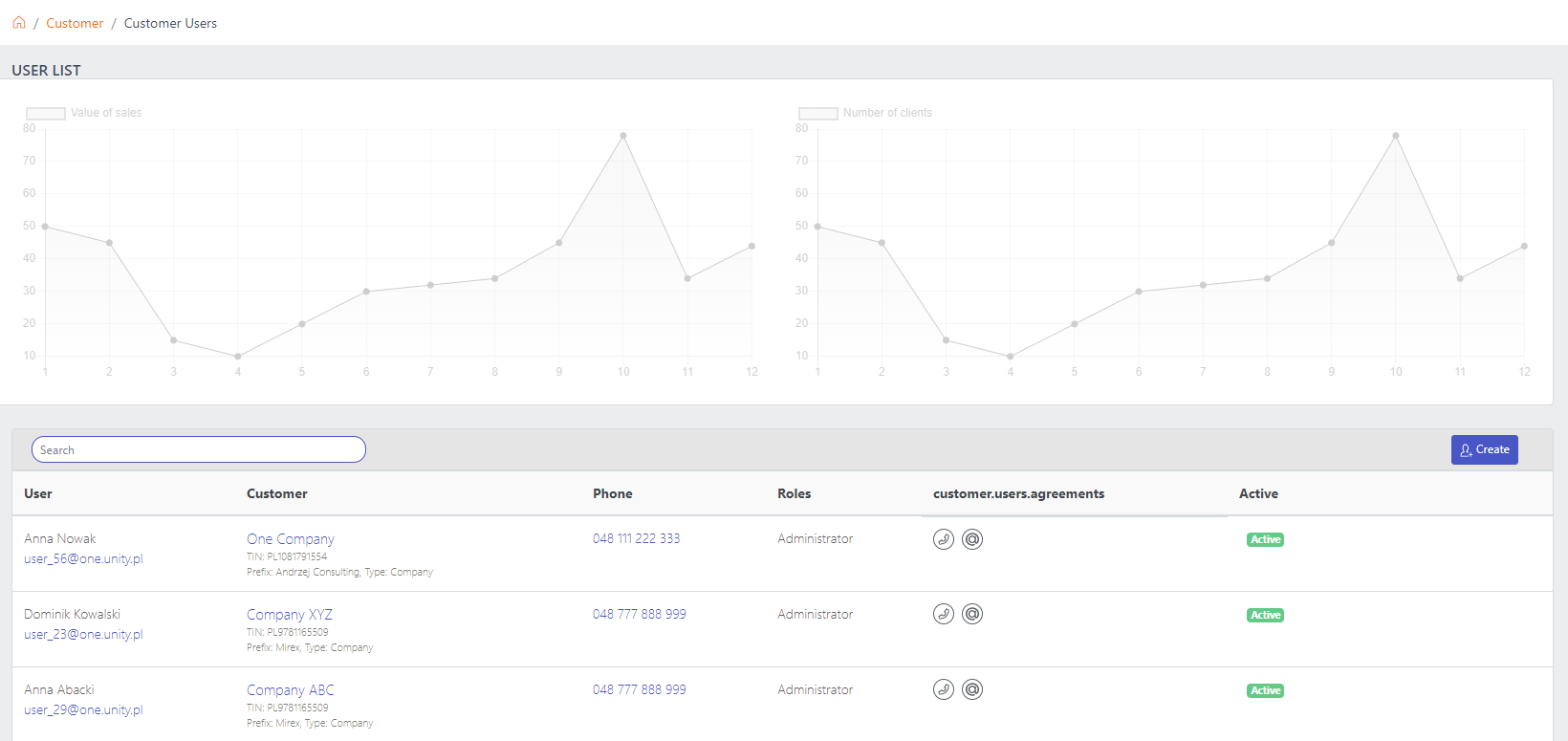 Changes in the invoicing module
In the invoice module also changed its design and added new additional information. From now on, we have comfortable access to the sum of overdue and unpaid all invoices or in case of applying filters to the sums of indicated invoices.

There is also a division into invoices and corrections. By using the filtering option in the invoice module, we can freely switch between the above-mentioned documents.

Improvements:
Back Office | CMS | Files - The appearance of the folders is now more clearer
Back Office | CMS | Files - Fixed an error with not displaying the name and icon of the document that occurred with some file types




Front End | Complains and returns - Fixed an error with the impossibility of returning to the "0" value in the number of products complained in the complaint form
Back Office - Colouring of the buttons in the admin panel has been unified
Front End - Fixed a problem with an incorrect browser card name in case of an error on the page
Front End | Mobile - Bug with incorrect display of the message on the top of home page has been fixed
Front End | Order Path - Bug with the choice of the exact delivery date has been corrected